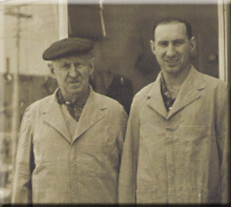 1912:

William Dinetz begins repairing old stoves and selling them from the garage of his house on Richmond Street in Toronto.
1940's:

Sid Dinetz joins his father in the family business.
1950:

DINETZ RESTAURANT EQUIPMENT is established in the storefront on King Street East.
2012

after more than a half-century on king street DINETZ launches its new distribution and showroom headquarters at 844 CALEDONIA ROAD in Toronto
2013 and beyond:

DINETZ is still building broiling baking chopping kneading mincing freezing basting roasting cleaning searing sauteing seating dicing braising poaching proofing grinding grilling slicing mixing setting deviling parboiling blanching icing simmering boiling warming steaming chilling stirring blending shaving flipping folding whisking filleting washing organizing blending frying grating rolling tenderizing cutting paring uncorking straining glazing melting carving cubing molding designing equipping installing pouring mopping consulting ....
... and oh yeah, SAVING you time and money!
close